Mick Maume (KJK)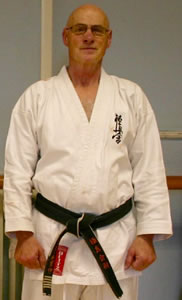 While Thanet Kyokushin-Jutsu Kai (KJK) headed by Shihan Mick Maume is not part of Elite Fighting Arts - Kyokushin Academy, the club shares a common goal and uses the same facilities. Mr Maume started his career in Karate from the garage at the back of a cafe on Sturry road in Canterbury in 1970. His training was originally with a retired professional wrestler by the name of Frank Price and only lasted for about 1 year.


Mr Maume then took a number of years out to have a family and then was temped back in 1983 by an advert in a local chip shop. Mr Maume then took his children to the club in Wincheap, Canterbury which was run by a second dan called Malcolm Stauton who was a student of Kyokushin legend, Sensei (now Hanshi) Bernard Creton.


Mr Maume use to train 3 or 4 times a week plus some weekends in Canterbury, Ashford, Folkstone, Maidstone, Hastings plus other locations in the south east. In 1987 Shihan (Master) Creton asked him to start a club up in Margate and he has been in the area ever since.


Mr Maume got his 1st Dan in 1989 in a summer camp in Denmark, 2nd Dan in 1991 in Denmark. Then left and together with Richard Nye senior formed Shunenjutsu in 1997. 1998 he got his 3rd Dan, 2002 4th Dan, in 2007 5th Dan & 6th Dan in 2017 continuing to teach under the banner Kyokushin-Jutsu Kai. Should you wish to contact Shihan Mick Maume directly please contact on Mobile:
07921 520568
KJK Training Times
:
| | |
| --- | --- |
| Tuesday | |
| Kyokushin-Jutsu Kai Karate | 7:00 - 8:30pm |
| Pay as you train: £6.00 Juniors / £8 Seniors | |
Further Links within this section
EFA Training Times:
Monday

Thai Kickboxing & Open Gym
8 - 9pm



Thursday

Kyokushinkai Karate
7 - 8pm
Knockdown Fighting & Fitness
8 - 9pm






Sunday




Elitian Cubs (Kids Karate) Age 3-6 years

Tsuyoi-Kakuto, Japanese MMA

9 - 10am

10 - 11am
Elitian Cubs from age 3 - 6 years
Juniors from age 6 years - 16 years
Seniors from age 16 years +
More classes available. Please refer to Instructors page.
EFA Training Costs:
£20 per month - 3-16yrs.
£30 per month - 16yrs +
121 Classes by Prior Appointment:
£20 per hour.